Why We Struggle to Let Go When Crafting With Kids
I was lying in bed this morning with my toddler Henry. The poor little thing has been under the weather so I showed him an episode of Peppa Pig on my phone in an attempt to distract him from his discomfort.
In this episode, Peppa got a homework assignment to make a castle using recycled boxes…
Of course, Peppa's parents ended up doing most of the work, look at this masterpiece! Peppa is only 4 pig-years old!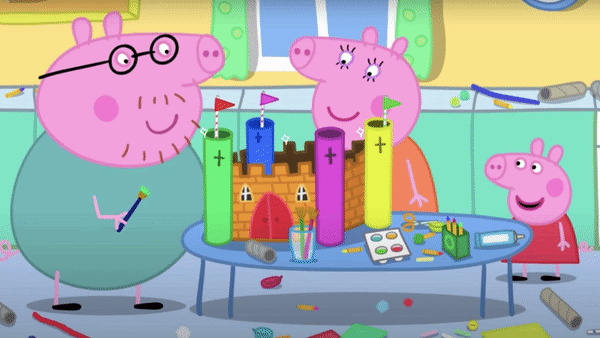 As a parent and crafting club owner, this episode hit a nerve...
If your child were to receive Peppa's assignment, what would YOU do?
A. Set out boxes and crafting materials and let your child craft away by themselves,
B. Hide and let your child figure it out,
C. Get your architect friend to stop by after work to assist, or
D. Jump in and help your child turn the project into a castle masterpiece.
If (whether out of love, support, or just because you love to craft) you picked C or D, then this training is for you!
In this training that was recorded live on Facebook, Marlene van den Berg (Occupational and Play Therapist) and I explored a few root causes why we as parents or teachers struggle to let go of control when crafting with kids.
You can watch part 2 of the 4-part series below:
Look out for the fun and practical challenge at the end of the discussion and let us know how you did in the comments below!
Lots of love,
Christelle
XO